The Future Care Pathways workstream explores care beyond provision of specific treatment products, widening the focus on to physical and non-physical pathways, the integration and use of digital tools, including artificial intelligence (AI), consideration of mental health, and the science involved in driving behavioural change.
About the workstream
Treatment in hospitals has become more specialised and centralised, and current structures don't always lend themselves to collaboration around patients with diseases requiring regular and lifelong treatment and a comprehensive, multidisciplinary care team. Significant challenges persist and efforts are needed to future-proof treatment and care.
At the same time, the world becoming more digital provides opportunities for new treatment and care organisation and collaboration tools in order to improve the quality of care, promote patient safety and satisfaction, facilitate communication, and thereby improve the quality of life for patients.
Building on COVID-19 learnings and recognising that in all other aspects of life, technology is becoming more and more integrated, this workstream will explore the role of technology in the future care pathways.
This workstream aims to explore:
Care beyond provision of specific treatment products,
Physical and non-physical pathways,
Patients' diverse and individual needs,
The integration and use of digital tools, incl. AI (artificial intelligence),
Mental health, and
Behavioural science.
Composition
The composition of the workstream aims to reflect the diversity of key actors who have hands-on knowledge of challenges and possible solutions in the thematic area. This includes, but is not limited to: patients, healthcare professionals, industry partners, private companies, policymakers, researchers, and academics.
The general membership profile is built around required skill sets and may evolve throughout the co-creation process. The initial skill sets include the ability to 'problem map' salient points and their relationships, requiring:
Hands-on knowledge of the topic area,
Genuine willingness to learn about, and actively contribute to, a systems change culture,
Experienced, analytical, open, hands-on ability to remove stakeholder 'hat', and
Respect of Chatham House Rule and culture of conduct and engagement.
Each workstream brings together around 15 individuals, which is broad enough to ensure a comprehensive overview, while small enough to be workable.
Workload
The mandate duration and meeting cadence are subject to collective needs and decisions. However, the preliminary anticipated commitment is three to four (3-4) hours per quarter, and the meetings are designed as virtual workshops requiring active participation.
The first meeting took place online in the first quarter of 2023.
Public outcome
As part of sharing the outcome of the work of the EHC Think Tank, the first paper from the workstream on future care pathways in which workstream members identify four challenges to be prioritised for future discussions about shaping care pathways is now published.
Stakeholders, including healthcare providers, patient groups, researchers, and industry representatives, agreed to focus on the following challenges:
1. Prioritisation (cost and evidence);
2. Agreeing on a baseline;
3. Digital health;
4. Fragmentation of healthcare.
Skouw-Rasmussen N, Savini L; EHC Think Tank. Future Care Pathways – A report from the 1st workshop of the EHC Think Tank Workstream on Future Care Pathways. J Haem Pract 2023; 10(1): 74-81. https://sciendo.com/article/10.2478/jhp-2023-0013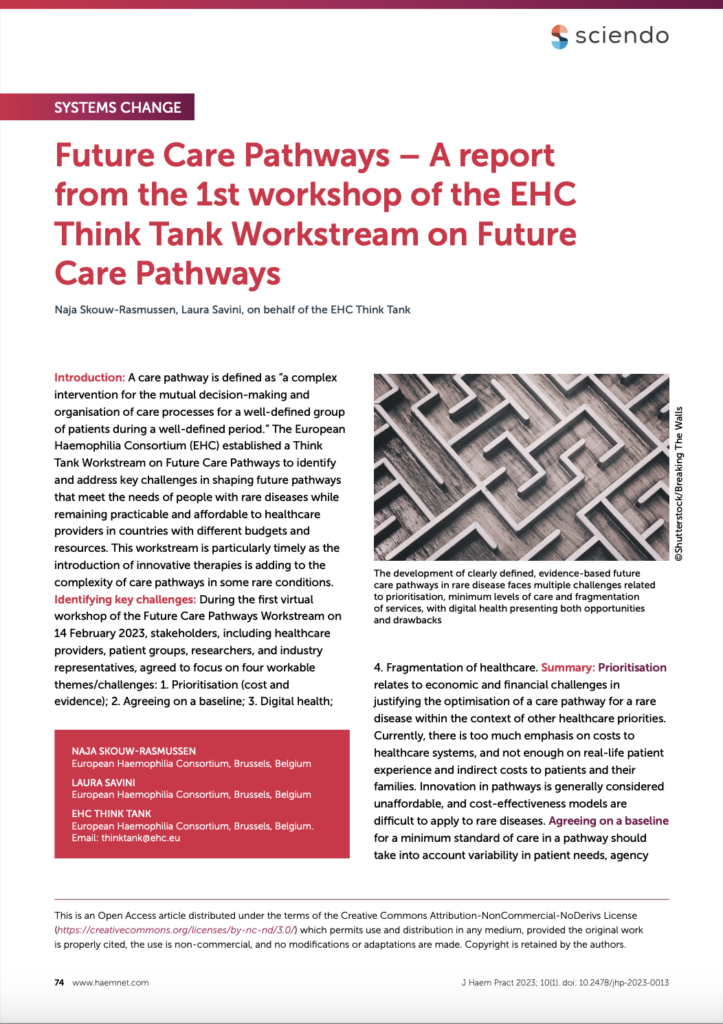 System map of the underlying challenges
A system map is a methodology to better understand a particular issue by visualising the challenges, related constraints, and enablers. The system map aims to give an overview of the issue at hand while balancing the detail level.
The map is built from the participants' discussions and vetted by participants throughout its development. The key challenges identified are:
Combining digital and human elements in one pathway
Problematic behaviour, nudges and incentives
Data-driven pathways
It is important to remember that the system map illustrates the situation here and now and does not include ideas and wishes for the future. Thus, it is dynamic and should look different in the future as initiatives evolve, resource flows change, opportunities arise, or new challenges occur.

The map is interactive and gives you an opportunity to zoom in on particular circles and connections and zoom out to see the bigger picture of connections. To open it in a separate window, click this link.
If you would like to learn more about the work of this workstream, please get in touch with us.